Finland – snowy land, tilting between day and night , with abundant entrancing nature ... and very keen on canine sports ! That's our conlusion as the World Championship has come to an end !

In March 2010, when we checked the stadium, the grounds and the facilities together with the President of the FCI commission for utility dogs, Hameenlinna – a 50,000-inhabitant small city situated on the banks of one of the numerous lakes of the Aulanko Nature Reserve- was still covered by a thick quantity of snow. The preparation was going on well, which allowed the World Championship to happen smoothly without any problem.

September 2010 – when we landed in Finland, the snow had been replaced by the rain. The bad climatic conditions accompanied us from the opening to the award ceremonies. Despite a long hot summer in Finland, the World Championship suffered from changing weather and heavy rains.
Nonetheless, the Finns did all they could, in their typical warm and spontaneous way, to make their Championship a successful event. Obviously and undoubtedly, this competition was organised by dog sports lovers for dog sports lovers ! Dogs and participants were indeed constantly given attention and care.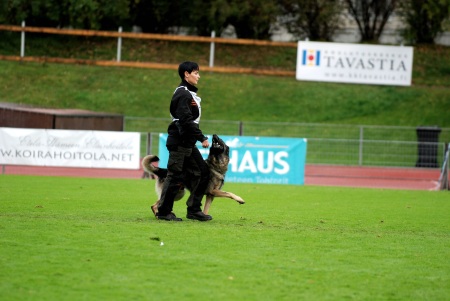 ---
Once on the spot, all went perfectly well. The quality of the grounds for tracking was outstanding and each participant was given the opportunity to work at his best in optimal conditions. The judges were assisted in a very professional and efficient way, which allowed them to officiate very seriously and quietly. In the stadium, there were lots of assistants who were in charge of ensuring a smooth running of the event. The assistants responsible for the « defense » section were also remarkable, having constantly in mind correctness and equity towards the dogs.

As a whole, it seems that the German team outclassed the other participants, in the solo as well as in the team competitions. Peter Scherck reiterated his 2009 feat and became 2010 FCI World Champion with an impressive result of 290/300 points. Germany was also awarded the title of « Team World Champion » with 865/900 points. These results are outstanding even more so when taking into consideration the long trip that the teams took to travel to Finland, either by car or by plane !

We express our warmest congratulations to all the participants and our most sincere thanks to the organisers, Paavo Rapila in particular. I am also particulary grateful to all the collaborators. Their constant enthusiasm, despite the heavy rains, will make us keep wonderful memories of this event.
---