Extraordinary Dobermann, Spectacular Win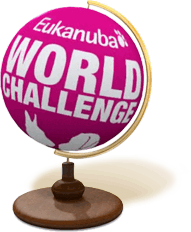 The fourth annual prestigious Eukanuba World Challenge took place on Saturday 4th and Sunday 5th December hosted at the 10th Annual AKC / Eukanuba National Championships in Long Beach, California. 41 top winning dogs represented their countries from around the globe, competing in one of the four non geographical sections for the highly prized title "Eukanuba World Challenge Champion 2010" along with the $10,000 prize money.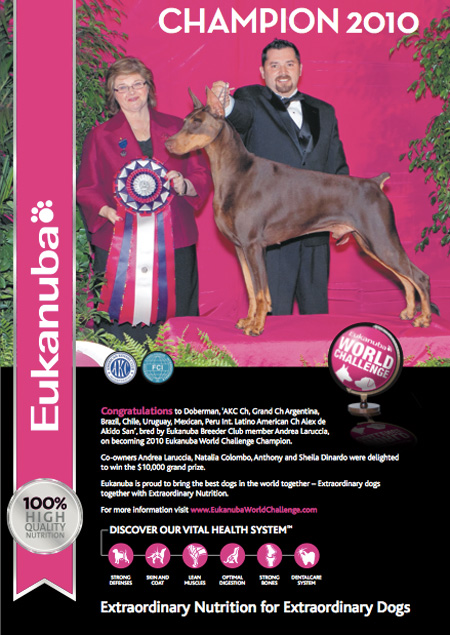 The ultimate winner and title holder of the "Eukanuba World Challenge Champion 2010" selected by Judge Carla Molinari (Portugal) was the 5 year old multi titled, multi BIS winner, the Doberman representing Argentina, "AKC Ch, Grand Ch Argentina, Brazil, Chile, Uruguay, Mexican, Peru Int. Latino American Ch Alex de Akido San". Bred by his ecstatic co-owner Andrea Laruccia, (other co-owners are Natalia Colombo, Anthony & Sheila Dinardo), he was handled to all his show win successes, including his 90 plus BIS's, by Miguel Alejandro Vera. Upon exiting the ring Miguel said "I am very emotional, no words can describe how elated I feel about this fantastic win at such a great show with all the top dogs representing their countries". Andrea added "I cannot believe that we have won, it is so fantastic, this is the best thing that has happened to me as a breeder to win this show. Thanks to Eukanuba for looking after us so well and thanks to the section judge Jaime Ganoza and to the finals judge Carla Molinari.
Carla commented on her winner "I chose the Doberman because he was perfect in his stance and his movement, he did not put a foot wrong. He has BIS quality and he was asking for this win".
Chairman of the AKC and show chair Ron Menaker said "A true winner, every bit a Doberman, epitomises the breed type."

Hans Muller, President of the FCI "An excellent event with high class dogs in competition. It could not have been easy for the judge, with the quality of the finalists which was outstanding".
Richard Learwood, Eukanuba Global Marketing Director "Eukanuba are pleased with yet another excellent well received event, showing extraordinary dogs from around the world. This is what the Eukanuba World Challenge is all about". The runner up was the Swedish representative, Charlotte Sandell and Peter Palmedals's homebred Standard Poodle "Multi Ch Huffish Intensive Care" handled by Charlotte winning $3000 and the first runner up winning $2,000 was the Japanese representative, co-owned by Genji Ozeki and handled by Yoshio Harada Borzoi "AKC / Int & Japan Ch Sunburst Huntsman at Mechta". The winning country's Kennel club (Argentina) will be awarded $5,000; all prize awards are courtesy of Eukanuba.
For further information please contact: Lorna Hastings on or Lars Ortlieb External Relations Manager EMEA P & G Petcare & Snacks on .
---